Loads of Manchester United fans want Mason Greenwood out of the club after he was accused by his girlfriend Harriet Robson of domestic violence.
Robson took to Instagram to inform her followers what she had gone through while in a relationship with the Man United star, Greenwood.
Harriet Robson posted photos and audio recordings to her Instagram story and on them, she is seen with bruises and cuts on her body, including footage of her showing her bloodied mouth.
One of her audio recordings reveals to show a man, who she refers to as 'Mason', forcing Robson to have sex while she calmly tried to do otherwise.
GET MASON GREENWOOD OUT OF MANCHESTER UNITED RIGHT NOW AND LOCK HIM UP!🤬🤬🤬🤬🤬

— WHF!🇾🇪 (@UtdWesleyy) January 30, 2022
These clips and photos have since gone viral across social media, forcing Manchester United and Greater Manchester Police to release statements.
"We are aware of images and allegations circulating on social media," Manchester United's statement reads.
"We will not make any further comment until the facts have been established. Manchester United does not condone violence of any kind.'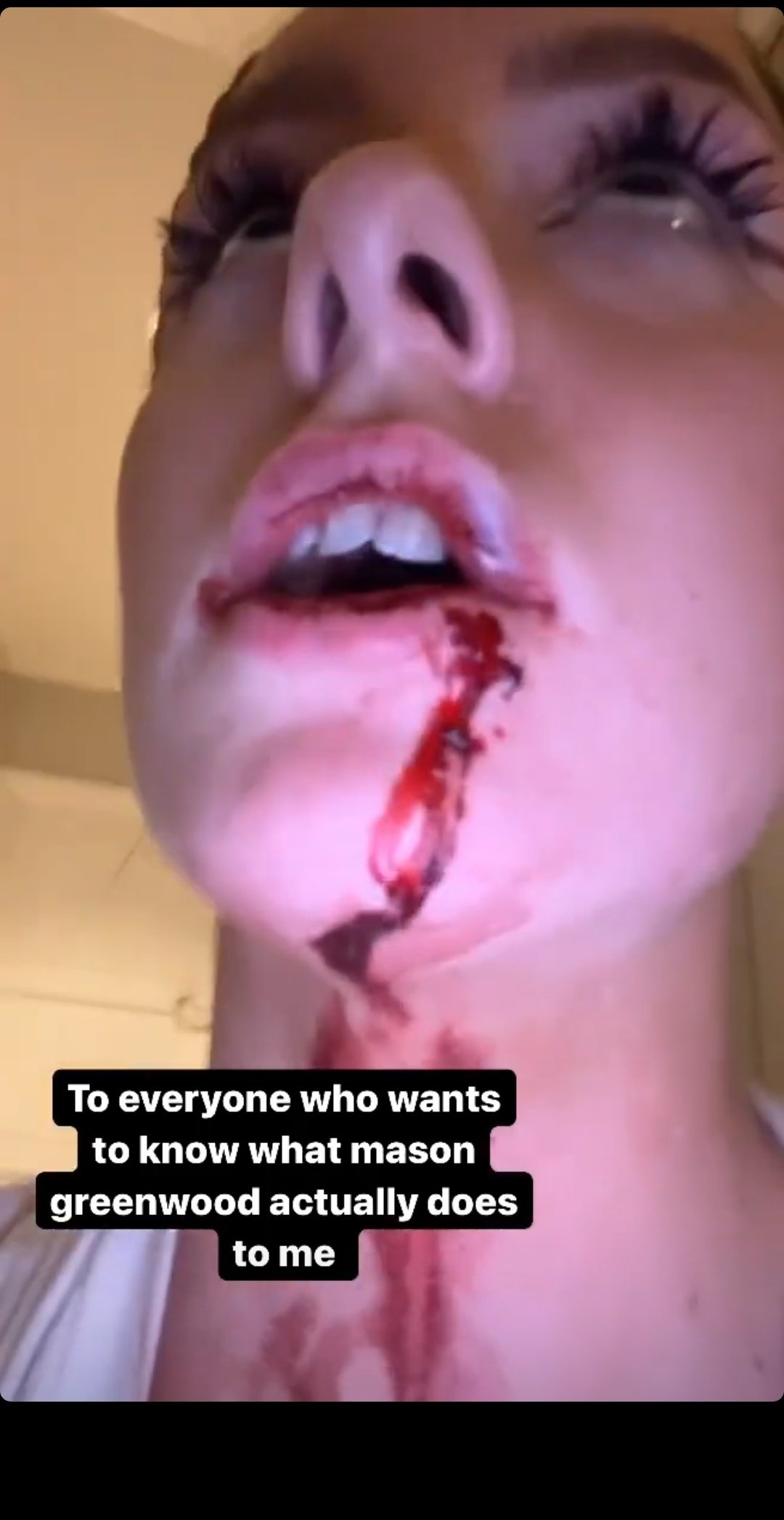 Greater Manchester Police statement: "Greater Manchester Police is aware of images and videos circulating on social media. Enquiries are ongoing to establish the full circumstances."
Several Manchester United fans have condemned Greenwood's behaviour towards Harriet Robson and have already demanded the England international leave the club immediately.
Sickening video and audio.

Please get Mason Greenwood OUT of Manchester United immediately.

— UtdFaithfuls (@UtdFaithfuls) January 30, 2022
Mason Greenwood a scumbag Doesn't he have a Mother or Sister well I wonder if he's Dad such Behavior towards his mum to give birth to him God!!! Get Mason Greenwood out of #MUFC.

— Ace (@AceskipperB) January 30, 2022
Get mason greenwood out ………seriously this is serial killer level

— U.Jay🇳🇬 (@UJosh6) January 30, 2022
Nah get Mason Greenwood out of my club. I'm disgusted. That recording made me sick

— •• (@_Its_Alex___) January 30, 2022
Get Mason Greenwood so far to fuck out of Man Utd by the end of today,

Dirty rat!

Absolutely no one should be "protecting" him when there is a young girl emotionally and mentally shattered because of a rapey ego maniac! 👊🏻

— R (@rfw1989) January 30, 2022
GET MASON GREENWOOD OUT OF MANCHESTER UNITED RIGHT NOW AND LOCK HIM UP!🤬🤬🤬🤬🤬

— WHF!🇾🇪 (@UtdWesleyy) January 30, 2022
Another user tweeted: "Get Mason Greenwood and all signs of him removed from our football club and the England squad immediately!"
A user also tweeted: "Get Mason Greenwood out of our club. That's his career done and rightly so! Great footballer but a horrible human being, those pictures and especially that voice note is f**king disgusting."