Lazio central midfielder Sergej Milinkovic-Savic has been strongly linked with a move to Manchester United in recent months, according to reports.
The 23-year-old midfielder, who was named in Serbia World Cup squad, has been examined to have almost the same qualities as that of Manchester United ace Paul Pogba.
Following an impressive performance, he showed at Lazio in the concluded season, has seen him as one of the hottest players in Europe and it is not a surprise to see him linked with a big-money move to Manchester United.
Juventus, who won the Serie A champions, have also shown interest in the Serbia international as they are keen on keeping the midfielder in Italy.
Sergej, who is almost 6ft 4ins, is a powerful appearance in central midfield, strong in the tackle (recovering balls) and powerful in the air.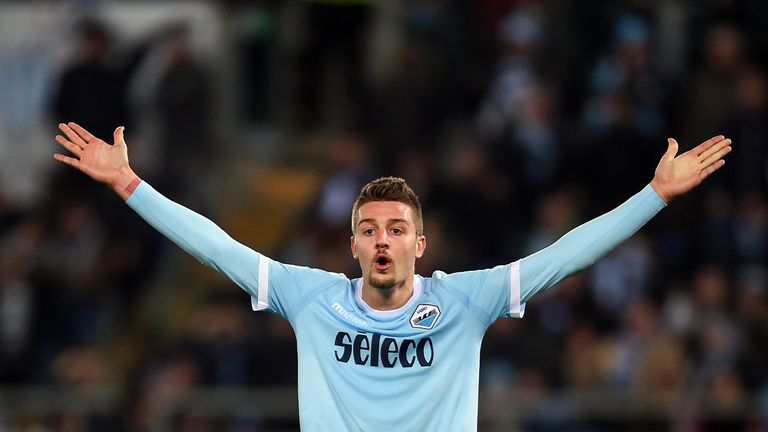 But the former Genk man is at his best with the ball at his feet. He's endowed with a wonderful first touch, an eye for a pass and textbook technique.
Compared to Manchester United Paul Pogba, the improvements in the Lazio man's armoury could make him an ideal counterpart for the Frenchman.
Little comparisons of Sergej Milinkovic-Savic vs Paul Pogba are as follows;
Having grown tremendously as a goal threat – Milinkovic-Savic's 12 league goals doubles Pogba's – he's also surpassing the United ace in interceptions (1.1 to 0.92) tackles (1.73 to 1.42), and touches in the opposition's box (3.97 to 3.17) per 90.
Yet Paul Pogba can boost with his 10 league assists compared to Milinkovic-Savic's three and tops the Serbian international in passes (72 to 55.29) and successful take-ons (3.13 to 1.73) per 90.
However, should Milinkovic-Savic sign for Manchester United after the World Cup, together in a three-man midfield, they could both thrive.